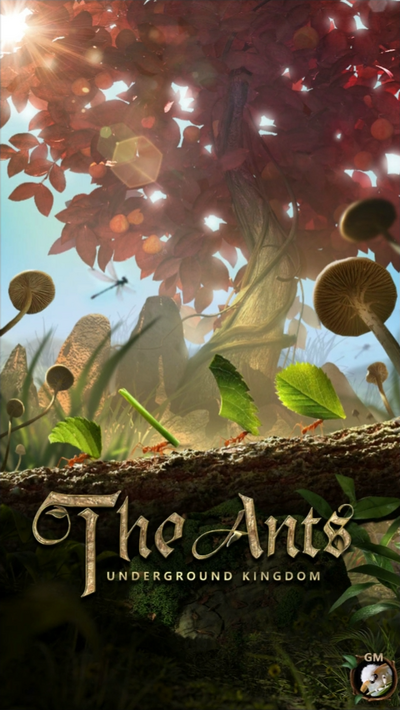 In The Ants: Underground Kingdom, you are the ultimate Ant Ruler to lead your Queen and build your Anthill.
To survive and reproduce, wars between animals take place frequently in nature. In The Ants: Underground Kingdom, you are the ultimate Ant Ruler to build the Anthill, lead the Queen, grow the colony, and defend against enemies. For the glory and prosperity of your ant empire, you must show your own strategies resourcefulness.
Game Features
[
]
【Build Your Anthill】
The Anthill of an ant colony is the same as the castle of an empire, which provides a safe place for the offspring to grow. Anthill layout is strategically crucial, so you should plan your hive wisely, construct tunnels, thus building your ideal ant empire!
【Hatch Ants】
The number of ants represents the rise and fall of an ant empire. For the development of your ant empire, you must hatch as many ants as possible. Lead them to fight, plunder resources, and expand your territory!
【Mutate Ants】
To plunder resources and expand territory, you must build a mighty Ant Troop. In addition to numerous advanced Soldier Ants, You also need to have leaders for your Ant Troops: The Special Ants. You can get powerful Special Ants by hatching mutant eggs. Your Ant Troop will gain a sweeping victory with a proper combination of Soldier Ants and Special Ants.
【Create Alliances】
Fighting alone will never be easy. Success only leaves for the alliances who think alike. By creating or joining an Alliance, you can help each other to grow and fight together. With the help of allies, the ant empire under your command will surely take its place in this Ant Kingdom!
Recent Changes
[
]
Track the most recent changes to the wiki on this page.
List of abbreviations:
N

This edit created a new page (also see list of new pages)

m

This is a minor edit

b

This edit was performed by a bot

(±123)

The page size changed by this number of bytes
8 December 2021
7 December 2021
Contribute
[
]
This wiki currently has 272 articles.
Take a look at the stubs to contribute to this wiki!
ABOUT US
We're a community run and maintained by people just like you! Created by fans, for fans, the The Ants: Underground Kingdom Wiki is dedicated to creating a comprehensive and informative resource about The Ants: Underground Kingdom.
We also have a place for getting to know each other and to talk about The Ants: Underground Kingdom in our Discussions. Whether you are here to start editing or to chat with fellow users, you are welcome to sign up for an account!
Community Founders: Write a good and paragraph-length description for your welcome section about your topic. Let your readers know what your topic is about and add some general information about it. Then you should visit the admin dashboard for more tips.